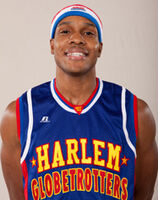 Position: F Date of Birth: 10/05/1985 Height: 6' 4" Weight: 210 lbs College: New York Institute of Technology '08 Hometown: Brooklyn, New York

Biography: Zeus Stewart's nickname suits him well, as he has a daily workout regimen that includes calisthenics, cardio, weightlifting, even exercises to strengthen his grip, which comes in handy when he is powering his way to a slam dunk.
Zeus started playing basketball at the age of 10 and found an instant passion for the game. He quickly developed a love of leaping as well, as he dunked for the first time when he was only 5-7…catching an off-the-glass alley-oop, no less.
He averaged 19 points and 13 rebounds a game as a high school senior, then went on to pile up 1048 points in two years of junior college ball before enrolling at the New York Institute of Technology, where he was an All-East Coast Conference honoree during his two years as a starter.
His mother will always be his hero. She came to America from Guyana and raised Zeus and his two brothers single-handedly. She instilled hard work into Zeus, and he hopes to someday use his entrepreneurial instincts to own his own business.
Zeus also enjoys writing and researching historical figures. He could be writing his own piece of history with the world's most famous basketball team. "It's still very surreal to me," says Zeus, "and I have a great standard to live