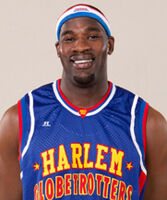 Position: F Date of Birth: 04/30/1985 Height: 6' 7" Weight: 235 lbs College: Fairmont State University (W.Va.) '06 Hometown: Lakeland, Florida
h Biography: Aptly named because of his above-the-rim, all-out playing style, Turbo Pearson was introduced to basketball at the age of eight, when his mom took him to a basketball camp. He hasn't stopped playing since.
Turbo is a great example about how you can overcome obstacles. He was cut from his ninth grade basketball team due to poor grades, so he put his nose to the grindstone, and his next report card put him on the honor roll. He was also a Dean's List student during his college days at Fairmont State University in Fairmont, W.Va.
Turbo gives back by volunteering at the Boys and Girls Club, and also likes to golf and shop in his spare time. Turbo has a unique piece of advice for kids: "Give what you've never given to get what you've never had."