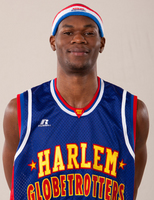 Position: F Date of Birth: 05/12/1985 Height: 6' 8" Weight: 205 lbs College: University of Michigan '07 Hometown: Warner Robins, Georgia

Biography: Dunking phenom Thunder Petway was selected in the Harlem Globetrotters' first ever player draft in 2007. The Globetrotters first spotted his talents during his career at the University of Michigan and in the 2007 college Slam Dunk Championship, where he finished second. Sporting a 42-inch vertical leap, Thunder was the Wolverine's second-leading rebounder and shot blocker as a senior, and he helped lead the Wolverines to an NIT championship in 2004.
Thunder was introduced to the game at the age of three, when his mom taught him how to make a bounce pass. All of his relatives played basketball and helped Thunder develop his game, and he became a first team all-state selection as a high school senior. He also ran track, finishing second in the state in the 100 meters and 110 meter hurdles.
Following his career at Michigan, he played two years in the NBA D-League, where he won the slam dunk contest and a team championship in his rookie season. He followed that up the next year by being named the league's defensive player of the year.
The Globetrotters put Thunder's ambassadorial skills to the test early. His first tour was the Globetrotters' annual holiday military tour, during which the team entertains U.S. troops based overseas. The first game on the military tour, Thunder's adrenaline was extremely high; his nerves were out of control with excitement. As he up went for his first dunk, his feet sprung off the floor higher than he ever remembers, and when he dunked the ball, the troops went wild.
"It was an unbelievable feeling," says Thunder.
Growing up in Georgia, Thunder idolized former Atlanta Hawks superstar Dominique Wilkins and his highlight-reel dunks. Thunder developed his own array of slams, but has always been partial to the windmill that Wilkins made so famous. More than half of Thunder's career field goals at Michigan were via dunks.
Thunder is a big fan of the WWE, and he also likes to write and record R&B and rap songs. He is very involved in youth ministry at his mother's church, where he talks to kids about taking their lives in the right direction. He would also enjoy trying his hand at coaching or sports announcing someday.
Being with the Globetrotters is a dream come true for Thunder. "I get to do the two things I do best: play basketball and entertain," he says.
&nbsp