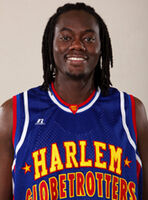 Position: F Date of Birth: 03/08/1982 Height: 6' 6" Weight: 185 lbs College: St. John's University (N.Y.) '04 Hometown: Bronx, New York

Biography: There was a basketball court right across the street from the house where Slick Willie Shaw grew up, so he saw it as a sign, and he started playing the game at the age of six.
In his seventh-year as a Globetrotter after four years as a starter at St. John's University, Slick helped lead St. John's to the NIT Championship in 2003, and he holds the school record for most career three-pointers. During the Globetrotters' 2011 tour, he will be setting his sights even higher on the new 4-point shot.
Slick has been to dozens of countries during his years with the Globetrotters and has seen some incredible things, like the Eiffel Tower and the Great Wall of China. He's had the honor of entertaining U.S. troops on the Globetrotters' annual holiday military tour, and he performed for a national TV audience in Dec. 2010 on a Globetrotters' special from the ESPN Wide World of Sports Complex at Disney World.
Being born in New York, Slick loves the Yankees, Mets, Knicks and Giants. Even though he has close friends that are also sports stars, like NBA sharpshooter Ben Gordon, he was blown away when playing his very first game ever with the Globetrotters. "It was at STAPLES Center in Los Angeles, it was sold out, and I will never forget how many celebrities were there. It was really an introduction to how many people love the Globetrotters."