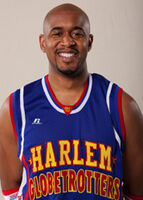 Position: G Date of Birth: 11/16/1978 Height: 6' 1" Weight: 172 lbs College: University of Montana '02 Hometown: Las Vegas, Nevada

Biography:

There's family, and then there's family away from your family. That's how Scooter Christensen describes his Globetrotter teammates. "I consider the guys on the team my brothers," he says. Of course, like brothers, the players fun-lovingly bust on each other a lot. "My first year, we had a player that looked like Squidward Tentacles from SpongeBob SquarePants. The guys put a picture of Squidward right on his seat on the bus. We were trying not to laugh, but as soon as he got on the bus, it was over."
Scooter has the unique distinction of holding two Guinness World Records, one for the longest time spinning a basketball on one's head and one's nose.
He was introduced to basketball at the age of five. He played soccer too, but when he started growing faster than most of the other kids, he started concentrating solely on basketball in eighth grade. After winning a state championship and team MVP honors in high school, Scooter went on to become a two-time Big Sky Conference Defensive Player of the Year, leading the University of Montana to the NCAA tournament in 2002. He is also second on the Grizzlies' all-time assist list.
Scooter's talents were on display for a national TV audience on two Globetrotter specials on ESPN2 in 2010 from the ESPN Wide World of Sports Complex at Disney World in Orlando, Fla. Scooter has also appeared on such popular TV shows as "Hell's Kitchen" "The Bachelorette" and "The Wendy Williams Show."
Not only is Scooter one of the Globetrotters' premier ball handlers, he also has a great set of pipes; he once won a karaoke contest in Montana. "I come from a singing family; we sang a lot in church." He even sings on the bus now and then when the Globetrotters are traveling from city to city and can also keep his teammates entertained by popping in one of the DVDs from his massive collection of nearly 500 movies.

&nbsp