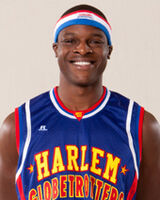 Position: F Date of Birth: 01/17/1986 Height: 6' 4" Weight: 225 lbs College: Allegany College of Maryland '05 Hometown: Sterling, Virginia

Biography: Sarge Johnson was introduced to the game of basketball by his father and sister while growing up in Sterling, Virginia. He was also was an outstanding football player, but basketball is his first love, and as he grew up, he developed a rim-rocking style that will wow Globetrotter fans.
After high school, Sarge attended Allegany College of Maryland for a year before he discovered another calling. He joined the U.S. Armed Forces, and even though he is now showcasing his talents as a member of the world's most famous basketball team, he still proudly serves his country in the Reserves.
Sarge says motivation, determination and inspiration are the things that move a person through life.
A fan of the Cleveland Cavaliers, Chicago Bulls and Washington Redskins, Sarge's favorite type of food is Chinese, and he enjoys playing poker and spending time with his nieces and nephews.
Make sure you salute Sarge when he's soaring to the hoop.