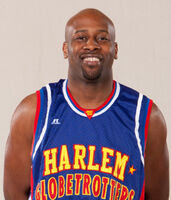 Position: G Date of Birth: 09/30/1973 Height: 6' 4" Weight: 205 lbs College: Baylor University (Texas) '95 Hometown: Houston, Texas

Biography: Hot Shot Branch, in his eighth season with the Globetrotters, was a two-time, second-team all-conference selection at Baylor and is the seventh leading scorer in school history. He is third on the school's all-time list for three-pointers made in a career (267) and in one season (104). This shooting prowess will make him one of the players the Globetrotters will count on to hit plenty of 4-point shots on the 2011 "4 Times the Fun" World Tour.
Hot Shot immensely enjoys the opportunity being a Globetrotter gives him to impact today's youth in positive ways, one of which is by presenting the team's popular "C.H.E.E.R.™ For Character" program, extolling the benefits of character development to elementary school students.
Music is also one of Hot Shot's passions, and he is a self-taught DJ. When listening to other DJs, he is often thinking about what song would be a great one to come next. Hot Shot has his own equipment and has been a DJ at weddings, dances and other events in his hometown of Houston. He would love to try his hand at being a DJ on the radio someday.
Hot Shot is involved with a community project called the Project Hoops Basketball Organization. He is interested in becoming a probation officer following his playing career
He now coaches at a small 5A school in Grangerland North of Houston known as Caney Creek