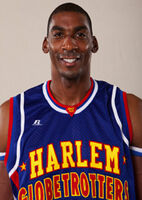 Position: F Date of Birth: 01/10/1971 Height: 6' 7" Weight: 218 lbs College: Benedict College (S.C.) '94 Hometown: Greer, South Carolina

Biography: Hi-Lite Bruton (BROO-tun), in his tenth season with the Globetrotters, is a crowd favorite because of his high-flying slam dunks, but you would be surprised to know that he didn't dunk for the first time until he was a senior in high school.
Just as amazing, Hi-Lite did not play organized basketball before enrolling at Benedict College in Columbia, S.C., where he impressed the men's head basketball coach during a pickup game and was offered a spot on the team. Hi-Lite's basketball career skyrocketed, as he went on to win the slam dunk contest during the 1994 NCAA Final Four Weekend and earn NAIA First Team All-America honors as a college senior.
He was drafted by the Chicago Bulls in 1994, but various injuries derailed his NBA career. Undeterred, Hi-Lite continued to play professionally, during which time one of his coaches, Milton Barnes (who was a former Globetrotters coach) recommended he give the Globetrotters a shot, and he signed a contract with the team in 2001. He feels blessed to be able to share his athletic gift and spread joy around the world.
His Globetrotter travels have taken Hi-Lite to dozens of countries, and he has played in some very unique settings, from games on aircrafts carriers when the team has visited U.S. military personnel, to being part of the first professional basketball game ever played on ice in New York City's Central Park in 2010. He has also been a guest on the popular "Wendy Williams Show" and got to share the stage at the famous Grand Ole Opry with legendary country music stars like Charlie Daniels.
Hi-Lite cites his grandmother as his hero, because she raised him and 12 other kids. His grandmother would take the kids fishing every summer in South Carolina, and fishing is a hobby that Hi-Lite enjoys to this day.