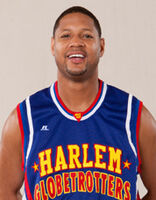 #14 Handles Franklin, G

[

]
Position: G

Date of Birth: 10/05/1972 Height: 6' 1" Weight: 175 lbs College: Lock Haven University (Pa.) '97 Hometown: Harrisburg, Pennsylvania

Biography: Handles Franklin had many positive role models growing up, first and foremost, his parents. His father was a police officer, and his mother worked at a hospital. "They both served the community and passed that mentality on to me," says Handles. He also credits his high school coach, Bill Gaffey, for setting him on the right path. "He taught me that education was very important. He wouldn't let me play when my grades were poor, and that lesson changed my thought process."

That thought process drove Handles to earn a degree in social work at Lock Haven University (Pa.), as well as a master's degree in social work at the University of Pittsburgh. When he wasn't hitting the books hard, he was using his keen ball handling ability to become Lock Haven's second all-time assist leader, along with ranking in the top 10 in the nation in assists and steals twice in his college career.

Watching the Globetrotters' cartoon in the 1970s when he was growing up was how Handles was introduced to basketball, and he is humbled that he has the chance to be a part of such an iconic organization.

"I've wanted to be a Globetrotter since I was a kid," says Handles.

He put himself on the map in numerous Nike commercials from 2000-2004, including the groundbreaking and widely popular, "Freestyle" ads, sharing the stage with NBA stars such as Paul Pierce, Lamar Odom, Vince Carter and Baron Davis. The mind-blowing talent he displayed in those commercials was part of what brought him to the Globetrotters' attention.

Handles' basketball wizardry and fun-loving personality were in the spotlight when the Harlem Globetrotters played for the first time in the All-Star Celebrity Game on ESPN during NBA All-Star Weekend 2009.

Handles does many amazing things with the ball, and one of his favorite moves is dribbling the ball while lying on the floor and spinning his body. "I try to come up with something new and unique whenever I can," says Handles.

Check out Handles when the Globetrotters play in your city to see what he comes up with next.
&nbsp