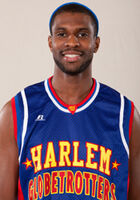 Position: F Date of Birth: 08/19/1983 Height: 6' 7" Weight: 220 lbs College: Mountain State University (W.Va.) '10 Hometown: Westbury, New York

Biography: Crash Ormon begins his first season with the world's most famous basketball team, following a senior season at Mountain State University where he led the Cougars in rebounding and double-doubles and was second on the team in blocked shots.
A self-proclaimed "computer geek," Crash enjoys playing games online with friends, but he makes sure he balances that with plenty of exercise, including 150 pushups and 100 sit ups a day.
Crash enjoys Pokémon and is a fan of the San Francisco 49ers, New York Mets and Boston Celtics. He admires the passion that Celtics' forward Kevin Garnett has for the game.
Crash has a passion for giving back, and in the future, he wants to manage a company that helps children without the means to excel in school and at home and gives them a support system.
Becoming a Globetrotter is a crowning achievement in Crash's basketball career. "I have always wanted to be the best and become a pro." Crash encourages kids to lives their dreams too, saying, "Life has no walls when you want something bad enough."