Jurassic World: Dominion Dominates Fandom Wikis - The Loop
Play Sound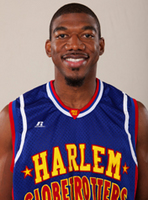 Position: G Date of Birth: 12/06/1976 Height: 6' 2" Weight: 192 lbs College: University of Wyoming '00 Hometown: Phoenix, Arizona

Biography: Buckets Blakes was born and raised in Phoenix and still lives in the Valley of the Sun, and his first exposure to basketball was watching the Phoenix Suns at the age of five. He would cut a hole in the top of his dad's hat, flip it over and shoot a tennis ball through it. Buckets says former Suns star Kevin Johnson was a large influence on him. "He wasn't that big but he made a huge impact on the game." Buckets will look to make a huge impact of his own with the Globetrotters' new 4-point shot.
His parents are his heroes, because they always involved him and his nine siblings in positive things. Buckets was not only an outstanding basketball player growing up, but he also lettered in track and football in high school. As his basketball talents grew, his high school coach, Michael Ellsworth, showed him that hard work pays off on and off the court. Buckets is very close friends with NBA star Mike Bibby, who also grew up and played high school ball in Phoenix.
Buckets took the work ethic he developed first to Arizona Western College, where he earned an associate's degree, then to the University of Wyoming, where he was team captain and MVP his junior and senior seasons, leading the team in rebounding, assists and steals his junior year. His senior season, Buckets was one of only two players in the Mountain West Conference to finish in the top 15 in scoring, rebounding and assists.
He is now working to complete his bachelor's degree online at Ashford University, as teammate Special K Daley has done.
Now in his ninth season with the Globetrotters, Buckets enjoys working with and mentoring kids, so he relishes the opportunities he's had to present the Globetrotters' widely popular "C.H.E.E.R.™ For Character" program around the world. He sees himself running his own gym and helping kids build character and self-esteem through sports mentoring following his playing days. He encourages youngsters to, "be the best 'you' that you can be, because it's very difficult to try and be someone else."
An avid watch collector, his travels take Buckets to many different places, but when he's at home, one thing is always the same: "I can't fall asleep at night unless I have a bowl of cereal before bed."
Email a Player: