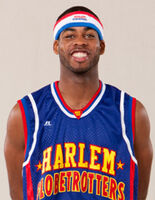 Position: G Date of Birth: 01/13/1984 Height: 5' 10" Weight: 155 lbs College: Barton College (N.C.) '07 Hometown: Wilson, North Carolina

Biography: Anthony a.k.a. Ant Atkinson's boundless energy, deft shooting touch, ball handling mastery and quick wit has made him a fan favorite in just a few Globetrotter seasons. "The camaraderie with the guys is unbelievable," Ant says. "We have great chemistry."
A First Team All-American at Barton College, Ant will long be remembered for leading one of the greatest comebacks in the history of college basketball, scoring 10 points in the last 39 seconds (including a layup at the buzzer) of the Bulldogs' heart-stopping 77-75 win over top-ranked Winona State in the 2007 NCAA Division II National Championship game.
The rally became a YouTube sensation and gained even more notoriety as a runner-up in the Best Finish category at the 2007 ESPY Awards. The performance also is ranked second on the list of Best Storybook Endings (including all divisions, genders and sports) in the last 25 years by NCAA Champion Magazine. Look for Ant to provide another brand of excitement this year we he tees up the new 4-point shot.
Ant has the distinction of being the top pick in the Harlem Globetrotters' first-ever player draft. Since then, he has traveled the world (he had never been outside the U.S. before becoming a Globetrotter); played atop the old Spectrum in Philadelphia and in a dark gym while wearing a glow-in-the-dark uniform; and his talents have been on display for national TV audiences on "The Bachelorette," "Are You Smarter Than A 5th Grader?" and on two Globetrotter TV specials at the ESPN Wide World of Sports Complex at Disney World in 2010.
Born in Wilson, N.C., Ant is a fan of the North Carolina Tar Heels and Carolina Panthers, and his hobbies include playing the drums and video games. Ray Allen of the Boston Celtics is his favorite basketball player because, "He's smooth, and his jump shot is so pure."
When Ant finished college, he knew he would continue his basketball career, "but the fact that it's with the Harlem Globetrotters makes it that much better," he explains. "This is the most fun a person can have playing basketball, and bringing smiles and entertainment to kids and families is unbelievable."
Community content is available under
CC-BY-SA
unless otherwise noted.